Welcome to the Dyson Press Centre
Recent Press Releases
16/10/2012 01:00:00
RCA Dyson Building hatches a new hub for British start-ups
The Royal College of Art Dyson Building opens today, housing 40 business incubators for young designers and engineers to cultivate British invention.
Fledging creative ventures will be given working space, industry mentors and access to angel investors to help commercialise their ideas. It will become a hot-house for talent as entrepreneurs work closely together, sharing experience and solving problems to grow their new businesses.
Start-ups currently in residence have already begun to garner investment, create jobs and export across the world. As they become self-sufficient, ventures will fly the nest making way for other potential businesses to move into the incubators.
World class facilities for fine art and print making will also be used to teach new students hoping to join to ranks of the College's famous alumni.
James Dyson said: "Tangible things designed and engineered in Britain will be our trump card in the global technology export race. Real exports, not digital fads will lead the way."
The James Dyson Foundation donated £5m to the RCA to fund their new building in Battersea, which will be home to the printmaking and photography departments, the incubator units, studio space and a lecture theatre.
The building forms a central part of The Royal College of Art's programme of expansion at their Battersea Campus and will be home to 250 RCA students.
The Start-ups:
Loowat
Loowat is an off-grid waterless toilet system that generates biogas for use in the local community. It combines waterless toilets with an anaerobic digester to deliver hygienic and odourless management of waste with the production of bottled gas for heating and cooking. Inventor Virginia Gardiner has an MA in Industrial Design Engineering from the RCA and an MSc in Mechanical Engineering, Imperial College London.
KwickScreen
KwickScreen is a portable, retractable room divider which provides isolation and privacy in hospitals. It has been specifically designed for the healthcare sector and is used between hospital beds on a ward. KwickScreen can be wiped clean and helps infection control. Inventor Michael Korn won the UK James Dyson Award in 2011. KwickScreen has been sold to over 60 NHS trusts and the company has begun exporting to markets around the world.
Lumberlock
Lumberlock solves the age old problem a getting a square peg into a round hole hand. It's simple to drill accurate round holes in things, but square section timber is cheap and easily made. So why isn't there something that lets you fit a square peg in a round hole? Lumberlock is a round plug with a square centre and is designed for furniture design.
NOTES TO EDITORS
The James Dyson Foundation donated five million pounds to the Royal College of Art in 2009; it was the largest single donation.
The Dyson building was designed by Architect Graham Haworth, of Haworth Tompkins. It includes 40 incubators available for use by design-led technology start-ups formed by graduates of the RCA and Imperial College.
The Dyson building forms the centrepiece of the new RCA Battersea campus and provides workshops and studios for five applied and fine art programmes and to 250 students.
James Dyson is an alumnus of the Royal College of Art. He graduated in 1969. In 2012, James Dyson was announced Provost of the Royal College of Art.
The James Dyson Foundation awards postgraduate bursaries of £25,000 per year to students from the University of Bath, Bristol, Corpus Christi Cambridge, and Imperial College London. They are awarded to students who show a passion for engineering, accounting for academic excellence and financial need.
The James Dyson Foundation awards a further £30,000 per annum to final year Royal College of Art students to support the prototyping and development of their design projects.
In 2010 James Dyson wrote Ingenious Britain a report commissioned by David Cameron on how we can turn the UK into Europe's leading exporter of high technology. A link to the report can be found here: http://www.russellgroup.ac.uk/uploads/Dyson-report-Ingenious_Britain1.pdf
---
Product information and images
Product images (low resolution for web and high resolution for print), logos and accompanying copy for the Dyson range of machines.
Commercials and short films
Watch recent Dyson videos and short films.
---
Recent Press Releases
16/10/2012 - SafetyNet catches the eye of the judges to win the UK James Dyson Award.
15/10/2012 - The new Dyson Digital Slim: forget the conventional vacuum. The most powerful cordless vacuum
08/11/2011 - James Dyson Award winner 2011: Airdrop overcomes drought, with inspiration from a beetle.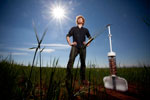 Engineering, not magic: the 2011 winner of the James Dyson Award extracts water from thin air. Airdrop is a low cost, self powered, and easy to install solution to the problems of growing crops in arid regions.
View more press releases in the archive
---